Libris Bookbinding
librisbookbinding.co.uk
Libris Bookbinding has been established in Nottingham for over 70 years.
Whether you need your thesis printing & binding, a set of magazines bound into a single volume, a one-off individual binding or your treasured old book rebinding we have the expertise to help.
In addition we have extensive experience of periodical binding, being the preferred binders for many of the midlands hospital libraries.
The price you pay is £27 per copy. No nasty extra hidden charges!  
We understand that preparing your dissertation for submission can be a stressful experience! This is where we can help. We bind to your University's exact requirements using only the finest materials and techniques. We have short lead times of 3-5 days to help you when time is tight.
If you want your thesis printed we can help there with our quality laser printers. Just email us your pdf and we can give you a quote.
Free Delivery
We will even deliver to the University Park & Jubilee Campuses of the University of Nottingham and Nottingham Trent University City campus free of charge.
0115 978 2863   07981 643763    email@librisbookbinding.co.uk
Our Services
Thesis Binding
Thesis Printing
Plastic Comb Binding
Periodical & Journal Binding
Repair & Rebinding
One-off Specialist Binding
Opening Hours
Monday - Thursday  8.00 - 5.00
Friday  8.00 - 12.00
173 Stanley Road
Forest Fields
Nottingham
NG7 6HW
Nottinghams Specialist Thesis Binders
librisbookbinding.co.uk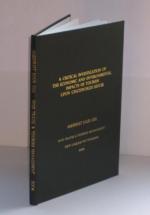 Double-click to edit text, or drag to move.
0115 978 2863
07981 643 763
email@librisbookbinding.co.uk